Location and Directions to Kilin Tyme Cabins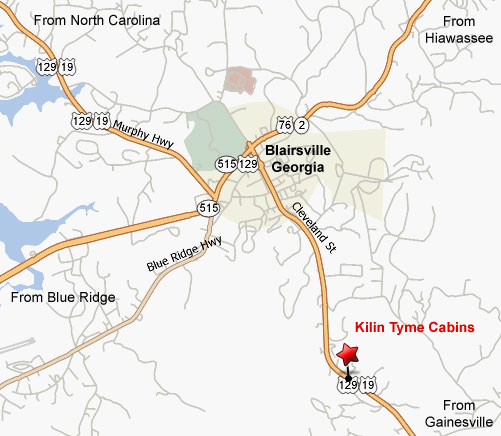 Kilin Tyme Cabins is the exact type of place that people think of when considering a peaceful, mountain cabin getaway. We are in the heart of the incredible North Georgia, Blue Ridge Mountains, in an idyllic and nostalgic setting. This is truly one of the absolute best places to go when you really want to "get away".
From Atlanta:
(Driving time from Hartsfield International Airport is normally approx. 2 hours and from Marietta approx. 1-1/2 hours.) Take I-75 North through Atlanta to Marietta. At Marietta take right Exit on I-575. Near Jasper I-575 will turn into Hwy 515. Continue on through Ellijay & Blue Ridge to Blairsville. At the first traffic light in Blairsville (Intersection Hwy 515 & US Hwy 19/129) Turn Right onto US 19/129 South. (McDonald's on Right and Burger King on left after turn) Go one block to four way stop. (You'll be looking at Aviator Cafe straight ahead.) Turn Left following 19/129 and it will take you to the "Old Courthouse Town Square". At the square go 1/4 way around to the right following signs 19/129 South. Proceed 2 miles to "Kilin Tyme Cabins" on left side of road. Look for white lattice sign. Turn left on Tyme Out Lane and follow road up the mountain to the Host House.
We would love to chat with you or to communicate by email. For availability and reservations, we have found that our guests prefer our personal attention. Please call or email us today!