Tyme Out in the North Georgia Mountains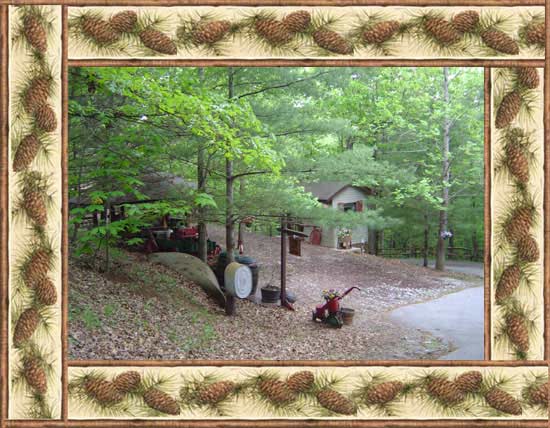 Tyme Out at Kilin Tyme Cabins in the North Georgia Mountains of Blairsville, Georgia
Our "Tyme Out" community area has a large gazebo with a fire pit for a warm cozy fire on chilly evenings. Marshmallows and graham crackers, along with roasting sticks are provided for your enjoyment. It's a great place for hanging out and spending quality time with friends or family.
"The Out Post" is an old-timey little place where guests can pick up brochures on local attractions.
"The Terrace Walk" is an alternative to the driveway, to mosey up the mountainside. For those into hiking, woods are all around. The top of our mountain is untouched and part of the U.S. Forestry Service. Deer, turkeys, rabbits and other wild critters, including an occasional bear or two, wander through our mountainside from time to time. The Chattahoochee National Forest and Wildlife Sanctuary are nearby. At appropriate times of the seasons, wild geese can be seen and heard flying through the Nottely River Valley below the cabins.
We would love to chat with you or to communicate by email. For availability and reservations, we have found that our guests prefer our personal attention. Please call or email us today!